I began writing this post Thursday afternoon. With the events Thursday evening and Friday, it appears, if one listens or watches the media reports, that this story is basically concluded. There's been a lot of 'breaking news' in the past 30 or so hours and now it seems as if all again is right with the world, one terrorist is dead, the other facing a long life of misery in the mind-numbing dungeons that the US calls Federal Prisons.
Yet as I wrap this up now late tonight, Friday, I'm not dissuaded of my conclusion below. While it is certainly possible that 2 brothers of Chechen descent originated the idea of creating terror, studied up on how to best build bombs, and then placed those bombs on April 15 with the intention of killing, not the VIPS who would have been in the bombs' wake had they exploded a couple of hours earlier, but simply killing and maiming and frightening their own kind - middle class Americans.
But I don't believe that's the case.
As with John Fitzgerald Kennedy's cold-blooded murder in Dallas and the Murrah Federal Building's destruction in Oklahoma and the entire 9/11 screenplay (and 7/7 and Madrid and Bali and all the others) we'll never get a truthful dossier out of the federal government explaining what really happened and what federal agencies bare various degrees of responsibility. Yet those of us who seek Truth have, thanks to unfortunate past experiences, an ability to create a general outline of what really happened in Boston last Monday. The following is my opinion of what really went down.
1) This is essential: despite contrary claims, either a branch of the United States Federal Government or a branch of Massachusetts law enforcement OR a multi-national agency OR a foreign country was operating a military drill at the site of the Boston Marathon at the very same time that the race was run on Monday April 15. Alastair Stevenson, a college track coach, was interviewed a short time after the bombs exploded and had this to say:
While there is no confirmation yet on whether the blasts were the result of a terrorist attack, Stevenson said something he saw before the race was unusual.
"At the starting line this morning, they had bomb sniffing dogs and the bomb squad out there," he said. "They kept announcing to runners not to be alarmed, that they were running a training exercise."
He added,

"I've run a lot of races like this one

, but I never saw bomb dogs at the starting line of any running event. It led me to believe that something like (a bomb detonation) might have happened."
A day after the race Stevenson went into further detail in this
interview:
"We were told on a loud announcement we shouldn't be concerned because this was just a drill. Maybe it was just a drill but I've never seen a drill like that at any major marathon that I've done, so, you know, it just concerns me that that's the only race I've ever done in my life where I've seen dogs sniffing for explosives and that's the only race where there's ever been an explosion... there was absolutely a drill going on at the Athlete's Village before the race."
Now, it is worth noting the Boston Police Commissioner said the Boston Police Department had "no specific intelligence" in regards to a drill taking place. That's an odd answer. Would Commissioner Davis need to ferret out specific 'intelligence' to know if the Feds and/or a Commonwealth agency were operating a drill(s) in his city? Maybe that's exactly what Davis is getting at with his answer. Or maybe Davis simply is a master at 'politicspeak'.
Or maybe he believes he's a secret agent and this is Vichy France. What's especially important is that Davis's response failed to answer the simple question. Yet Stevenson has said on the record now in at least 3 separate interviews that indeed the announcement was made prior to the start of the race that no one should be alarmed because a drill was being conducted. There was no obvious reason for Stevenson to make up such a story immediately following the race. Thus I believe he's telling the truth. There was a drill taking place. But what Stevenson did not know is that it is very likely there was more than one drill (2? 3?) being operated independent of one another. We have other instances where drills miraculously coincided with attacks by terrorists, including 9/11 and 7/7.
2) Now, let's step back for a moment and consider another instance of domestic 'terror'. This one centers on a Muslim teenager in Portland. In the case of Mohamed Mohamud, the boy's father, a Somali immigrant by the name of Osman Barre, contacted the FBI and shared with agents his worry that his son was becoming 'radicalized' by reading jihadist literature. The FBI sent a team of terrorism facilitators to meet Mohamud and save him from a life of crime and they ultimately coerced him into planting a 'bomb' in Portland.
Originally Mohamud wished to travel to Alaska to earn cash as a commercial fisherman in order to fund his later travel to Yemen and his Islamic studies in the Middle East. As he attempted to board a flight from Portland to Anchorage, he was stopped by FBI agents who had had him under surveillance for some time. Mohamud freely explained to these agents his reason for traveling to Alaska and his plans to study his religion abroad. Despite having committed no crime, Mohamud was barred from the flight and instead a short time later those terrorism facilitators, acting as 'angry Muslims' introduced themselves to Mohamud and befriended the teen. Rather than moderating Mohamud's thought process and warning him of consequences, these federal agents initiated a radicalization plan, going so far as traveling to the Coast Range where they spent the day detonating bombs in the woods. Later these agents provided Mohamud with a fake bomb and a detonator, and told him where and when the bomb should be planted. That led Mohamud to plant the government's bomb at Portland's Christmas
, sorry, Holiday Tree Lighting Ceremony. And then Mohamud was promptly arrested. A federal jury convicted him of one count and the now 21 year old faces a lifetime in a maximum security federal prison.
And Mohamud isn't the only one who has felt the 'guiding hand' of the Feds lead him to a bitter end. There are dozens of such cases where (often) not too bright individuals have found themselves being set up either by federal agents or 40 year old retired judges seeking to make the world a safer place by entrapping flat-broke transients in their webs.
In addition to offering phony bombs to their targets, the FBI also has a history or arming civilians with explosives.
Yet another similar operation was carried out by the FBI in February 2012, where yet another otherwise incapable patsy was provided with live explosives in the lead up to what was ultimately a failed suicide bombing at the US Capitol. USA Today reported in their article, "FBI foils alleged suicide bomb attack on U.S. Capitol

," that (emphasis added):
According to a counterterrorism official, El Khalifi "expressed interest in killing at least 30 people and considered targeting a building in Alexandria and a restaurant, synagogue and a place where military personnel gather in Washington before he settled on the Capitol after canvassing that area a couple of times," the Associated Press writes. During the year-long investigation, El Khalifi detonated explosives at a quarry in the capital region with undercover operatives. He is not believed to be affiliated with al-Qaeda, officials said.
The frightening trend of the FBI cultivating otherwise incapable "terror" suspects, providing them with and detonating real explosives, before giving them inert or controlled devices to carry out attacks on public targets where mass casualties are averted only at the last possible moment, sets the stage for at the very least, incredible potential for catastrophic blunders, and at worst, false flag attacks.

Has the FBI ever presided over "sting operations" that were actually carried out? The answer is yes. The FBI in fact was presiding over the terrorists who carried out the 1993 World Trade Center bombing. The role of the FBI leading up to the deadly attack would most likely have gone unreported had an FBI informant not taped his conversations with FBI agents after growing suspicious during the uncover operation. The New York Times in their article, "Tapes Depict Proposal to Thwart Bomb Used in Trade Center Blast," reported:
Law-enforcement officials were told that terrorists were building a bomb that was eventually used to blow up the World Trade Center, and they planned to thwart the plotters by secretly substituting harmless powder for the explosives, an informer said after the blast.

The informer was to have helped the plotters build the bomb and supply the fake powder, but the plan was called off by an F.B.I. supervisor who had other ideas about how the informer, Emad A. Salem, should be used, the informer said.

The account, which is given in the transcript of hundreds of hours of tape recordings Mr. Salem secretly made of his talks with law-enforcement agents, portrays the authorities as in a far better position than previously known to foil the Feb. 26 bombing of New York City's tallest towers. The explosion left six people dead, more than 1,000 injured and damages in excess of half a billion dollars.
3) Now, back to the BMB.
There are many photographs online of different 'security contractors' hanging around the finish line area. Did the city of Boston contract with these various security contractors? Was the Boston PD unable or unwilling to secure the Race? Did race organizers, believing the local police force to be incompetent, take matters into their own hands and hire these security contractors? Or, were they hired on the federal level? Those are questions that should have been answered by now. Yet I haven't found evidence that any media member has even asked such a question. And, with the trillions of dollars spent to fund (oh, how I despise this term) 'Homeland Security', on top of the barrels of dollars spent to operate the FBI and NSA and all the other federal agencies, and in addition to those the fact that the governor of Massachusetts had the National Guard's help to secure the race, why the hell would anyone hire these mercenaries to do the work?
And then we have a photograph I've been unable to forget since I first viewed it a couple nights ago: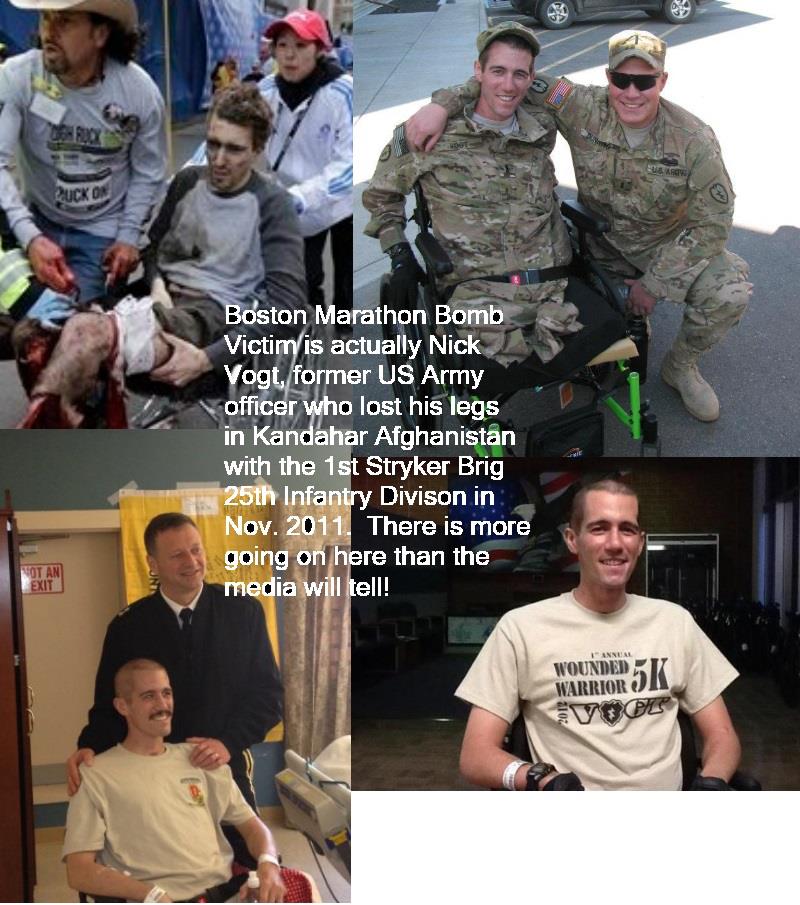 The resemblance between the 2 men is uncanny.
I hesitate to even insert this paragraph and the above photo array in this story as it is total conjecture. But against my better judgment, here goes:
I'm not big on the idea that the government uses actors for their staged events. Those in charge of this judeafied asylum have zero qualms when it comes to murdering innocents. So why use actors when you can kill or maim a few taxpayers? Further, the man riding down the street in the wheelchair with his legs blown apart and inches of bone exposed to the elements has been apparently identified as Jeff Bauman Jr. Even with his body in shock, looking at his facial expression and body language, Bauman apparently tolerates pain very well. One would expect to see his face contorted. I speak from some experience when I say EVERYTHING brings pain when one has major open wounds like that - even a slight breeze against the raw flesh hurts like hell - and I can't begin to imagine what the bone would feel like being exposed and broken like that. But maybe, just maybe, Bauman's role is being played by Vogt, a man who lost his legs bringing demonocracy to Afghanistan.
It is my belief that both soldiers of fortune (the now murdered serial killer Chris Kyle's 'security firm' Craft Internationa, for instance) as well as official military personel were on site and it is conceivable that all of the groups may have been operating their own 'drills', and one of those drills went 'Live', resulting in the detonation of 2 bombs. Further, numerous sources reported there were more bombs that failed to detonate. For instance this National Post report of a 3rd bomb just East of Copley Square. There's little chance more than 1 bomb would have fit in a backpack, considering the size of the pressure cooker. If 3 (or more) bombs were planted that suggests more than 2 individuals were involved. It also furthers the idea that this could have been an FBI/Homeland Security job where they provided either the bombs themselves or the where-with-all to build the bombs and urged the 2 brothers on in their endeavor.
4) It was reported earlier today that the older brother visited Chechnya and was 'radicalized' while there. That is interesting as Russia has for years claimed the CIA is behind the troubles in Chechnya, as:
Former rebel-turned-Moscow-ally Ramzan Kadyrov said in comments to Zavtra newspaper reprinted on his official website that he had seen the U.S. driving license of a CIA operative who was killed in a security operation he led.
Chechen authorities have previously said insurgents following the radical Wahabist form of Islam receive support from international Islamist groups sympathetic to al-Qaeda, but have not accused the West of instigating violence.
"We're fighting in the mountains with the American and English intelligence agencies. They are fighting not against Kadyrov, not against traditional Islam, they are fighting against the sovereign Russian state," he said.
The West sought to attack both Russian Prime Minister Vladimir Putin and the country as a whole by targeting the country's weakest regions, Kadyrov said in the comments republished prominently on www.chechnya.gov.ru.
Kadyrov was appointed by Moscow as a bulwark against separatist rebels in the mainly Muslim province, but rights activists say he flouts federal laws and is himself responsible for much of the violence that has grown in recent months.
"The West is interested to cut off the Caucasus from
Russia
. The Caucasus - a strategic frontier of Russia. If they take away the Caucasus from Russia, it's like taking away half of Russia."
Many Chechens have emigrated to Europe,
Turkey
, and Georgia and some have been recruited as insurgents, said Kadyrov.
"Now they strike a blow against Putin and Russia. Chechnya, Dagestan are weak, vulnerable parts of the Russian state," Kadyrov said, referring to the neighboring region, which has also been rocked by violence.
Asked if he was saying there were signs of CIA and MI6 participation in the violence, he said "Of course," he had seen evidence of their direct involvement in an operation he led.
"There was a terrorist Chitigov, he worked for the CIA. He had U.S. citizenship...When we killed him, I was in charge of the operation and we found a U.S. driving license and all the other documents were also American," he said.
Tamerlan Tsarnaev
It is surely possible that Tamerlan Tsarnaev came under the spell of a CIA or other Western agent(s) during his time in Chechnya. To further bolster this assumption, the FBI has now admitted they were in contact with Tsarnaev more than 2 years ago:
The FBI admitted Friday they interviewed the now-deceased Boston Marathon bombing suspect Tamerlan Tsarnaev two years ago and failed to find any incriminating information about him.
As first reported by CBS News correspondent Bob Orr,
the FBI interviewed Tsarnaev, the elder brother of at-large bombing suspect Dzhokhar A. Tsarnaev, at the request of a foreign government to see if he had any extremist ties, but failed to find any linkage
.
(Now I wonder which foreign government that might have been...)
Both Tsarnaev brothers were legal permanent residents of the U.S. There is no evidence so far that either brother received any tactical training.
CBS News correspondent John Miller reports it is likely Russia asked to have the elder Tsarnaev vetted because of suspected ties to Chechen extremists.
The FBI is likely to have run a background check, running his name through all the relevant databases, including those of other agencies, checking on his communications and all of his overseas travel. Miller reports that culminated in a sit-down interview where they probably asked him a lot of questions about his life, his contacts, his surroundings. All of this was then written in a report and sent it to the requesting government.
This is an issue they've had in the past. They interviewed Carlos Bledsoe in Little Rock, Ark., before he shot up an Army recruiting station in 2009. They were also looking into Major Hasan Nadal before the Fort Hood shootings
.
However, the FBI has maintained in those incidents that they took all the steps they were asked to and were allowed to under the law.
Although the FBI initially denied contacting Tsarnaev, the brothers' mother said they had in an interview with Russia Today
.
Zubeidat Tsarnaeva said her son got involved in "religious politics" about five years ago, and never told her he was involved in "jihad."
She insisted the FBI "knew what he was doing on Skype" and that they counseled him "every step of the way.
"
Tsarnaeva, who is a U.S. citizen currently in Russia, told Russia Today the FBI had called her with concerns about her elder son, although she did not specify when exactly she was contacted.
"Officials: There will be a controlled explosion opposite the library within one minute as part of bomb squad activities."
"They used to come [to our] home, they used to talk to me ... they were telling me that he was really an extremist leader and that they were afraid of him," Tsarnaeva said. "They told me whatever information he is getting, he gets from these extremist sites... they were controlling him, they were controlling his every step...and now they say that this is a terrorist act!"

Now is Mom simply pained and looking for someone to blame for the actions of her sons? Bare in mind what you just read: The FBI initially denied contacting Tsarnaev, they now admitted to contacting Tsarnaev around 2 years ago. Just as interesting is her final sentence: 'They were controlling him, they were controlling his every step... and now they say that this is a terrorist act!'
'Deception is a state of mind and the mind of the State.' James Jesus Angleton, former chief of CIA's counter-intelligence division
And then of course, there's the strange case of the Kennedy library. Moments after reporting the bombings the Boston Globe issued the following
Tweet:
"Officials: There will be a controlled explosion opposite the library within one minute as part of bomb squad activities."
Make of that what you will.
It is likely both boys (with the older brother as the 'senior partner') were in one way or another manipuated by powers that either over-reached and accidently instigated a bombing in Boston on Patriot Day, or they intentionally used these brothers to further their strategy of producing more State Sponsored Tension and serve their Real Masters.
I'd love to read your thoughts and would appreciate any further light to shine on this issue. As it is now, I believe this is my final post in regards to the BMB story (for the time being, at least). It is time for something completely different - the next post will either be about dogs or part IV of my Buried History series. or something totally unexpected.
I hope it is about dogs.
*********
I have to add this brief addendum a few minutes before midnight, April 20 :
While searching info for another post I stumbled across this gem:
The double amputee, 'Bauman' just so happened to be the one victim who, according to Fox news, 'awoke in his hospital bed' and heroically identified the 2 bombers by photographs the FBI handed him.
Another amazing coincidence.
If you still believe in coincidences, that is.