*see note at bottom of post
The economy still sucks here in the USA. Despite that, there are still opportunities to make a buck. And happily for some, Americans have always been eager to play the fool in another man's con game, and this post will reveal one sure way to conjure cash from a goy's pocket.
Now, despite being silly and easily led astray, Americans are also noted for their generosity. Nowhere is that generosity more proudly highlighted and expressed to the world than by America's embrace of the Kosher Tax.
Now at one time the Kosher Tax, represented by the 'Kosher Taxes Paid' symbol like the one at the top of this post, was found primarily on jewish oriented foodstuffs. The kind of items that non-jews would be as likely to buy as one of those mink-spinning top hats some jews like wearing (I haven't the foggiest idea what they are called and don't really care to learn, but they look like this:)
(I have a terrific advertising idea for these spinning yi lids, by the way, but that's a marketing opportunity for another day)
Anyway, what's remarkable is that the Kosher Tax Stamp (KTS) has bred itself into new forms and functions (just like jews magically do with money as money breeds more money and this is called 'interest') and now one can find a KTS (in one or more of its various incarnations) on all sorts of gentile foods and products!
For instance, nearly all American macro (and a growing list of micro) brewed beers are certified Kosher! A 25 lb. bag of California Grown brown rice? Kosher! A 25 lb. bag of C&H brown sugar? Kosher! M&M candy? Kosher! Peanut Oil? Bakers' unsweetened cooking chocolate? Not just Kosher Salt, but regular salt? Kosher! Kosher! Kosher! Even more remarkable, some have multiple KTS's showing specific products to be even more kosher than other kosher products! (And of course meaning you are being double and triple taxed to boot... again, Americans are a generous, if simple, people).
But here's where it gets even better: Ajax dishwashing detergent? Kosher! Reynolds aluminum foil? Kosher! Ziplock storage bags? Kosher! The KTS con is brilliant, no?!?!
It should not be surprising that a number of sharp rabbis have weaseled in on the Kosher Stamp Tax game. While it used to be just a small handful of different taxing authorities existed, the various kosher labels today number in the many dozens in America alone
:
Now, as we've established above, there are many more Kosher Taxing Authorities (KTA's) today than there were 50 years ago... yet now nearly every item one can buy in a grocer's store is kosherized. Clearly what's needed are new markets.... and as we've also established above, it is true that the judeochristian community is, on a whole, notorious for being... oh gee - what's the right word I'm looking for here... um - Ok, STUPID. Yeah, that works. And here's where a tremendous jewish money-making opportunity is available for a young, energetic rabbi. Now, I should admit right off the bat here, it pains me to give away such a great idea freely, seemingly without any sort of compensation... but the great laugh I'll have when this comes to fruition will be worth it in and of itself.... OK, you ready?
'Certified Kosher Homes'.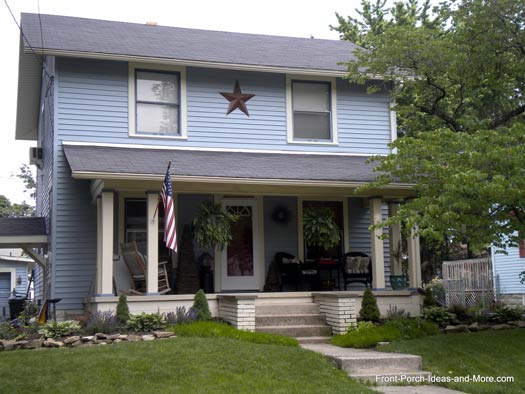 I can picture it already. To begin the charade, our eager rabbi creates a new, kosher logo (hopefully incorporating those now ubiquitous stars that idiots are plastering on their homes - the ones like this super-patriot proudly shows off in the pic above). Then meets up with a holy roller, someone like Paster Hagee - and the 2 conmen judeo christian leaders agree on a kickback figure, then Hagee goes up in front of his 'flock' and offers a sermon kind of like: "Ohhh, we live here in a Godless society! Where the men and women who despise God's home, Israel, ascend to postions of Great Power! Where Mooslims demand Sharia Law be enacted and where little boys are too lilly-livered to fight Iran for Israel's sake. Yet You can still show your love for God's own children, the Jews! You can make your home welcoming to God! And one of the best ways to do so is to have your home Kosherized!!! The Generous Rabbi Diamondstein, who's a true man of God, will actually come to your home and sanctify it as the home of a Godly judeochristian family. A family for Israel! Rabbi Diamondstein will then affix his special 4 foot tall Kosher seal on your front door! When Jesus comes back and raptures the believing, He will see your Kosher Seal and directly take you up into Heaven! You won't miss the bus because Jesus'll know only good people dwell in a home sealed as Kosher. Also, your friends and neighbors will know you love Israel when they see you've been Kosherized! Think of how proud you'll be havin' the first Kosherized house on the block. So sign up now - it's only $2500 -I know, I know it is cheap, but that's the introductory price - realize the Rabbi can't afford give it away for long at this great price - he's performing his act at a cut rate as a special favor to me!"
This could be a million dollar business right out of the gate. The capitalizing rabbi could kosherize small businesses ('surely you'll mow down your competition once your landscaping business is Kosherized!'), kosherize people's cars ('if you have a wreck after being Kosherized, it'll be because it was God's will, not because you fell asleep at the wheel!') kosherize peoples' marriages ('sure you'll be happy forever together - it's not only sanctified, it's kosherized!) He could proceed to kosherize newborns ('yes, little Davey was baptised which was, y'know, OK I guess... but then he was Kosherized so now we KNOW he has a firm bond with God, even though he's not a Chosen one').
I could go on and on. Just remember - when you see this pop up on a reality show in the near future, you read it here first.
*The kosher symbol at the top of this post is NOT used with permission of the rabbinical authority and its use on this page in no way implies this blog is now 'kosherized'. Rather the symbol appears in hopes it will bring a smile to someone's face, not a lawsuit to my doorstep.